For Immediate Release

Contact: John Constantine
CELCO
(909) 481 4648
john@celco.com
Four Honored with Awards for Technical Achievement for The CELCO Digital Film Recorder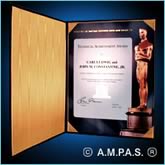 March 2, 2002 - Beverly Hills, CA – The Academy of Motion Picture Arts and Sciences presented four Awards "for scientific and technical achievement" to the developers of the CELCO Digital Film Recorder, Paul Constantine, brother John Constantine, Jr., cousin Peter Constantine and Carl Ludwig during a black-tie, gala event at the Regent Beverly Wilshire Hotel Grand Ballroom March 2nd, 2002. With great appreciation and passion, each awardee thanked the Academy and their official, statuesque Awards Presenter, screen star Charlize Theron who added glamour, beauty and technical terminology, Hollywood-style, to the evening.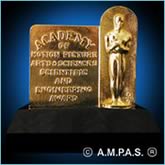 Winners of two of the seven Scientific and Engineering Plaques awarded are Paul Constantine, and Peter Constantine. Winners of two Technical Achievement Certificates (of 14 awarded) were presented to former CELCO employee and friend Carl Ludwig, and John Constantine, Jr. CELCO Digital Film Recorders "have proved their exceptional merit through successful use", according to Awards Administration Director, Richard Miller. The Board of Governors of A.M.P.A.S. cast their votes upon recommendations from the Scientific & Technical Awards Committee.
Further excitement in the film industry brews… as CELCO releases the FURY, their newest breakthrough in Digital motion picture film recording. The FURY outputs one frame/second, or 60 minutes of high-resolution 35mm film per day. CELCO reports FURY delivery positions are already filled through September 2002.
For more information on, please contact John Constantine at (909) 481-4648, by FAX at (909) 481-6899 or by e-mail at info@celco.com.
Visit CELCO's Web site at: http://www.celco.com/