Applications
---
Digital Intermediates
HD-Acquired Productions
Digital Trailers
Tape-to-Film Transfer
Archiveto Film
Digital Film Restoration
Long Form 65mm Productions
XCRT Advanced Imaging Technology
---

Advanced Imaging Technology is CELCO's breakthrough technology in light intensity advanced CRT science with CELCO magnetic deflection and electron beam focusing optics. This coupled with CELCO's engineered precision band interference color purity filter system and ultra precision light beam focusing optics provide significantly sharper images then laser based systems at speeds that far exceed the limited capability of laser based systems.

This technology allows for the ultimate in reliability, image quality, stability, flexibility, and ease of use. No other film recorder can offer such capabilities with such superior image quality.

Never before has a film recorder been capable of achieving images of the highest quality at an incredible speed of one second per frame, making CELCO's new FURY the fastest film recorder on earth. This changes the rules for imaging facilities allowing massive digital film productivity. The FURY dramatically reduces the cost per frame, enabling a new era where all films will have a digital master negative.
Science of Light
---
Our commitment to the Motion Picture Industry has demanded that we pour into the FURY enormous effort and creativity. The FURY project began with the belief that CELCO could forever change the world of Motion Picture Digital Imaging. This effort has caused change in every aspect of our recording technology. The design project required that we leave no stone unturned in our quest for pure performance. Most believed it couldn't be done, but we have come to understand that it is only our ability to imagine that limits what we, as engineers, can accomplish. The FURY will forever change the world of Motion Picture Digital Imaging.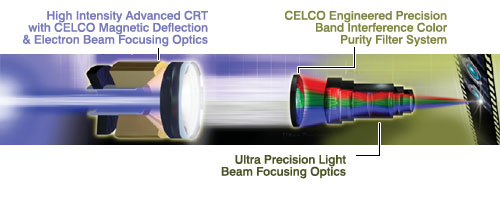 ---
When resolution is critical CELCO's Fury with

Advanced Imaging Technology is clearly superior to any other technology available. The zoomed in resolution test image of one-on, one-off line pairs shows off the Fury's superior resolution capabilities. All these capabilities are achieved with imaging times that are several times faster than anything else. Making the great even better is the Fury's abilities to sustain this level of quality imaging to any film stock, whether it is camera negative, intermediate negative, black & white, or your stock of choice. The Fury has a definite, measurable advantage in every critical aspect of digital to film recording.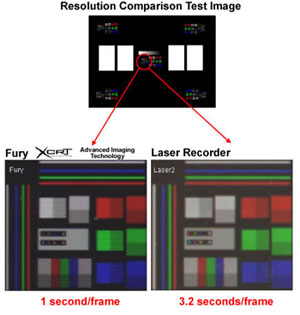 Format Resolution Tables
---