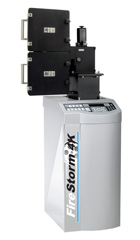 CELCO introduces the Firestorm 4K, the latest in its highly successful line of Firestorm Digital Motion Picture Recorders. The new Firestorm 4K offers much faster speed than the previous Firestorm 2X recorder when recording HD, 2K, and 4K resolution images onto intermediate film stock.

In addition CELCO has enhanced the image sharpness and quality of the image output with their latest generation film imaging technology. The system is powered by CELCO's new Linux host computer and film recorder driver software, making it easy to integrate into your production workflow.

The highly affordable Firestorm 4K comes as a complete system which includes the film recorder, host computer, driver software and 2000' film magazines.
---
The ultimate solution for low-cost, high-speed,
high-resolution digital film transfers.
---
Key Points:
35mm recording speed onto Kodak 2254 Color Digital Intermediate

HD 1.7 seconds/frame
Full 2K 2.4 seconds/frame
4K 5.4 seconds/frame

Linux host computer